Glasgow Brewery Taproom
A special experience awaits at our Glasgow Brewery Taproom
As one of the most vibrant parts of the city, there are many great pubs and bars to be found in Glasgow's West End. We pride ourselves on our Innis & Gunn Brewery Taproom Glasgow offering perhaps the best combination of beers and bites that you'll find though.
Visit us on popular and picturesque Ashton Lane and you'll find one of the city's most extensive selections of craft beers. We have 23 taps pouring intriguing and flavour packed brews, showcasing the best of our own brewery and also of international craft breweries.

As well as that range, we also have something else on top of that which not many bars in Glasgow can boast. Our tank fresh Innis & Gunn Lager Beer comes from 500 litre beer tanks that are regularly filled with fresh, unpasteurised Innis & Gunn beer, delivered straight from our brewery. And if you don't have time to stay and sample it? Don't worry, you can even grab a Growler to take away and enjoy at home.

Of course sometimes you might not be in the mood for beer (it happens, probably), but you'll still find a huge choice of options to suit you. We stock a wide selection of wines, spirits and cocktails to suit all tastes. So neither you nor anyone else in your party has to miss out on a fantastic experience.

We are delighted to be able to welcome you back to our Innis & Gunn Brewery Taproom in Glasgow.
As we maintain social distancing, things may look a little different in our bars but you can still expect the same excellent service and great beer! Download our app before you visit for the best experience.
You can find out more about how we're open safely and the changes we've made.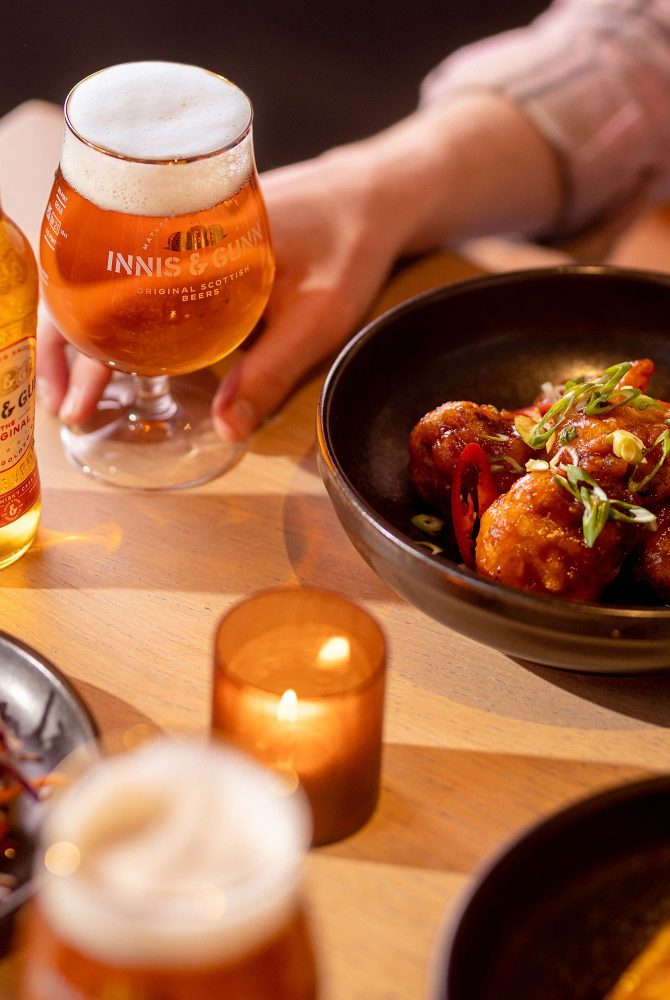 Innis & Gunn Brewery Taproom
44-46 Ashton Lane Glasgow G12 8SJ
Opening Hours
Monday

12:00 - 00:00

Tuesday

12:00 - 00:00

Wednesday

12:00 - 00:00

Thursday

12:00 - 00:00

Friday

12:00 - 00:00

Saturday

12:00 - 00:00

Sunday

12:00 - 00:00
Book a table
Reserve your table in our Glasgow taproom
We are very excited to be able to welcome you back to our Innis & Gunn Brewery Taproom in Glasgow, whether you're looking for food or just a drink. Bookings are available via our onsite form on this page.
We would also like to reassure you that your health, safety and comfort are our priority so we are taking every step we can in this regard. Find out more information via the link below.