Dundee Brewery Taproom
Our Dundee Taproom is home to something particularly special. As well as a great selection of beers, you'll find our tank fresh Innis & Gunn Lager Beer. Our 500 litre beer tanks are regularly filled with fresh, unpasteurised Innis & Gunn beer delivered straight from our brewery in nearby Perthshire.
As a student city, a UNESCO City of Design and the home of the world famous V&A, you'd definitely expect to find great bars and pubs in Dundee city centre. Our Innis & Gunn Brewery Taproom Dundee stands proudly at the top of the pile in its location on South Tay Street.
There you can expect a warm welcome, an atmosphere that's simultaneously laidback and vibrant and, of course, great beer and great food. So whether you're just looking to chill out over a quiet drink or you're out for food with a few friends, we've got the perfect venue for you.
At Innis & Gunn, we believe that great beer being paired with delicious, freshly prepared food makes for a match made in heaven. In our Brewery Taproom, you'll find all of our beers, alongside a mouthwatering menu of vibrant, seasonal dishes.
Of course, not everyone in your party may be a beer fan (sacrilege!) but don't worry. As well as the best that the world of brewing has to offer, we also have an extensive selection of wines, spirits and cocktails to suit every palate.
We are delighted to be able to welcome you back to our Innis & Gunn Brewery Taproom in Dundee city centre.

As we maintain social distancing, things may look a little different in our bars but you can still expect the same excellent service and great beer! Download our app before you visit for the best experience.
You can find out more about how we're open safely and the changes we've made.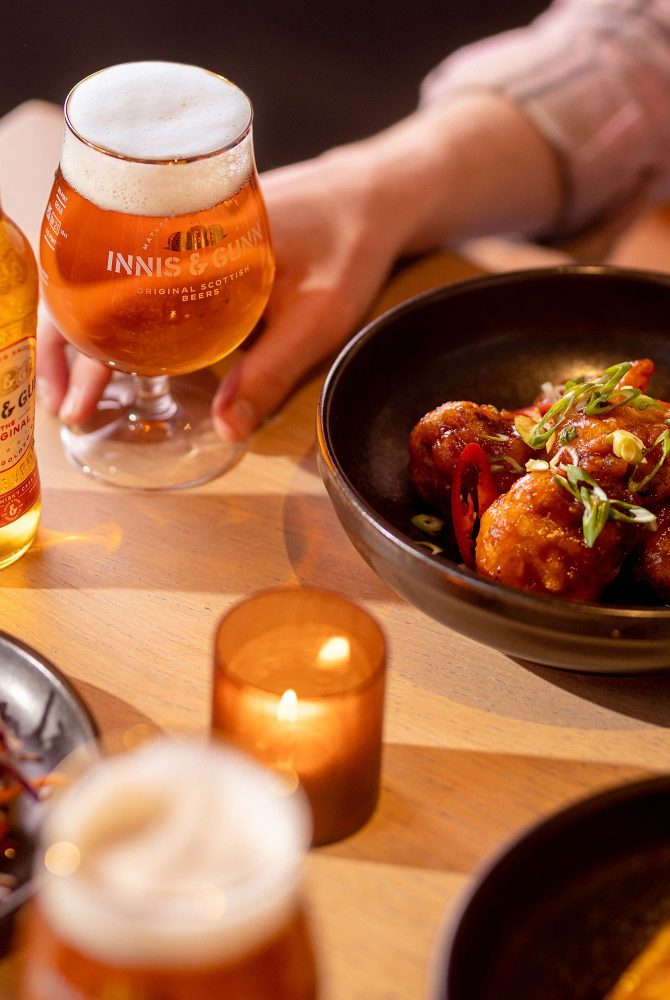 Innis & Gunn Brewery Taproom
10 South Tay Street, Dundee, DD1 1PA
Opening Hours
Monday

Closed

Tuesday

Closed

Wednesday

12:00 - 00:00

Thursday

12:00 - 00:00

Friday

12:00 - 00:00

Saturday

12:00 - 00:00

Sunday

12:00 - 00:00
Book a table
Reserve your table in our Dundee taproom
We are very excited to be able to welcome you back to our Innis & Gunn Brewery Taproom in Dundee, whether you're looking for food or just a drink. Bookings are available via our onsite form on this page.
We would also like to reassure you that your health, safety and comfort are our priority so we are taking every step we can in this regard. Find out more information via the link below.
Privacy: The personal information you give when you contact us will be used to make your booking or respond to your query. We'll only use it for that purpose and it won't be shared with anyone except to fulfil your booking or answer your query. You can find out more in our privacy policy.