Irish Whiskey Cask Release
10 March 2021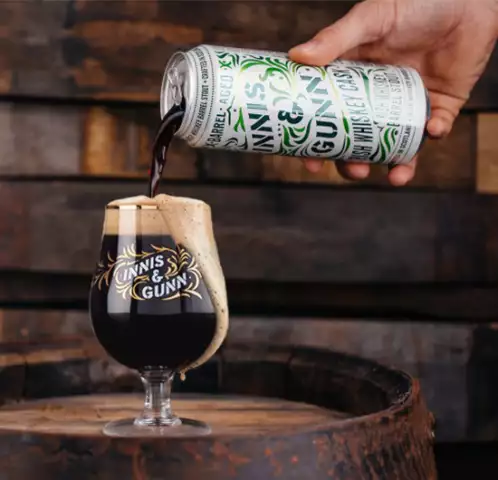 OUR POPULAR 'IRISH WHISKEY CASK' STOUT BACK DUE TO DEMAND
Once again, we are celebrating the Celtic connection between Scotland and Ireland with the re-release of our hugely popular Irish Whiskey Cask matured Scottish Stout.
Scotland is renowned for making whisky, Ireland for making stout. The Irish Whiskey Cask brings together and celebrates both nations by turning that convention on its head.
Jet black in colour, the limited-edition beer is warming and mellow, yet complex with flavours of dark chocolate, espresso and vanilla. Smooth to drink, the bitterness is balanced beautifully to give a long, chocolatey finish.
A combination of Scottish beer and Irish whiskey was first crafted around a decade ago to mark St Patrick's Day. Over the years, the brew has been refined and the Irish Whiskey Cask available today is the pinnacle of this pairing.
This time, the collaboration between nation's hasn't stopped with the beer. Irish photographer Christina Kernohan and Scottish Calligrapher Jill Calder have worked together to showcase and bring to life the richness and quality of the unique beer in an original way.
Kernohan has captured beautiful imagery of the standout beer, which perfectly highlights the swirls of the dark liquid as it settles into the glass. The foam spills over in the most tantalising way, bringing attention to the smooth character of the beer.
Calder has worked with Kernohan's set of images to really hero the brew, with the tasting notes and emotive descriptions written in modern typography, surrounding the beer.
Dougal Gunn Sharp, Founder, Innis & Gunn said: "Ireland is known for its great stouts, and Scotland for its great whisky, and of course both nations share Celtic culture, character and an innovative spirit. To celebrate this, we set out to turn convention on its head by brewing an incredible Scottish stout, then aging it using the best Irish Whiskey Casks. Our Irish Whiskey Cask Stout is brimming with Celtic attitude."

Read Next
Latest news and blog posts, directly from the Innis & Gunn team.